Mission:
To provide creative piano instruction and music theory based on the learning styles and goals of the student.

​​ All instruction is designed to meet the specific learning goals of each student.

​​All students receive keyboard instruction, music theory, multicultural music appreciation, musical career exploration.

Welcome to Price Learning Keys!
Thank you for supporting music education with Price Learning Keys!
Price Learning Keys ~ All rights reserved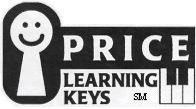 Price Learning Keys
​ Community Piano Studio
​ E-mail:2plkeys@gmail.com